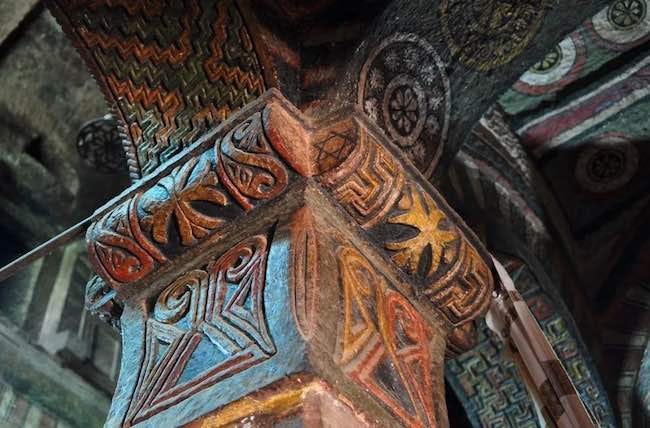 Dr Verena Krebs
FRHistS, 2022 Dan David Prize Winner, IAS Princeton Member 2022/23
Education and Career
I currently hold the W1 Professorship (non-tenure track) "Medieval Cultural Realms and their Entanglements" at Ruhr-University Bochum, Germany, where I also co-direct the Bochum Centre for Mediterranean Studies.

In 2014, I obtained a bi-national PhD in history from the universities of Konstanz, Germany, and Mekelle, Ethiopia, followed by three years doing a post-doc in Jerusalem (2014—2017). My primary research focus is on the late medieval Solomonic Kingdom of Ethiopia and its connections to the wider Mediterranean region.

Over the past decade, I have been a visiting researcher at the Institute for Ethiopian Studies, Addis Ababa University, Ethiopia, and the Department of History and Heritage Management at Mekelle University, Ethiopia. I have also led several fieldwork research initiatives in both the Amhara and Tigray regions of Ethiopia.

In my capacity as a professor for medieval history at Bochum, Germany, I regularly teach seminars and courses on the Global Middle Ages, the History of the Black Death in Afro-Eurasia in the 1300s, various aspects of North-East African History (1100—1550), the great 14th-century traveler Ibn Battuta as well as trade between the between the Indian Ocean and the Mediterranean in the Middle Ages.

Research, Awards and Honours
My first book, "Medieval Ethiopian Kingship, Craft, and Diplomacy with Latin Europe", was released with Palgrave Macmillan in March 2021. It received considerable international media attention (or so I've been told, at least for a specialised research monograph for which I initially struggled to find a publisher). Among other things, it was named one of the 'best medieval books of the year 2021'. A paperback of the book was released in early 2022; translations into Amharic and Tigrinya are currently underway.

In early 2022, I was selected as one of the winners of the prestigious Dan David Prize, the largest history award in the world. I was also fortunate enough to be awarded a Gerda Henkel Fellowship that allowed me to spend the academic year 2022/23 as a Member of the School of Historical Studies at the Institute for Advanced Study, Princeton. I used my time in the USA to develop my new book project, "Africa Collecting Europe: Power and Patronage in Christian Ethiopia, 1468-1530", under contract with the University of Pennsylvania Press.

Together with with Dr Yonatan Binyam (UCLA/IAS), I have also recently submitted the manuscript for a handbook titled 'Ethiopia' and the World, 330-1500. This book offers an accessible introduction for non-specialist historians and other interested readers to the history the Ethiopian-Eritrean highland plateau and its relations to Afro-Eurasia across the medieval millennium. It will be published by Cambridge University Press as part of the Elements in the Global Middle Ages Series, edited by Geraldine Heng and Susan J Noakes, in late 2023.
Academic Positions
current
Oct 2017-Sept 2024 (fixed-term)
W1 / Junior Professor, "Medieval Cultural Realms and their Entanglements, History Department, Ruhr-University Bochum, Germany
since Oct 2019
Assistant Executive Director, Centre for Mediterranean Studies (ZMS), Ruhr-University Bochum, Germany
Sept 2022-July 2023

previous
Oct 2014—Sept 2017
Postdoctoral Research Fellow, Martin Buber Society of Fellows in the Humanities, Hebrew University of Jerusalem
Sept 2015—Aug 2018
Associate Research Fellow, Centre for Religious Studies, Ruhr-University Bochum, project 'Jews and Christians in the East: Strategies of Interaction between the Mediterranean and the Indian Ocean (JewsEast)', funded by the European Research Council.
Education
Dr. phil. / PhD (with highest honours, "summa cum laude") in History,University of Konstanz, Germany, and Mekelle University, Ethiopia (Oct 2010—Dec 2014), bi-national degree (co-tutelle). Thesis title: 'Windows onto the World: Culture Contact and Western Christian Art in Ethiopia, 1400—1550'. Recipient of the award for Best PhD Thesis completed at the University of Konstanz in the academic year 2014/15, awarded by the Stiftung Wissenschaft und Gesellschaft, published on microfiche (2018).
MA (History and Medieval History), University of Konstanz, Germany (Oct 2007—April 2010, visiting student at the University of York from October 2008 to May 2009). Dissertation title: 'Das christliche Königreich Äthiopien: Kontakt zur westlichen christlichen Welt'. Awarded with distinction.
BA (Literature, Art, and Media Studies), University of Konstanz (Oct 2004—Jul 2007). Major in Literature, Art and Media Studies, Minor in History. Awarded with distinction.