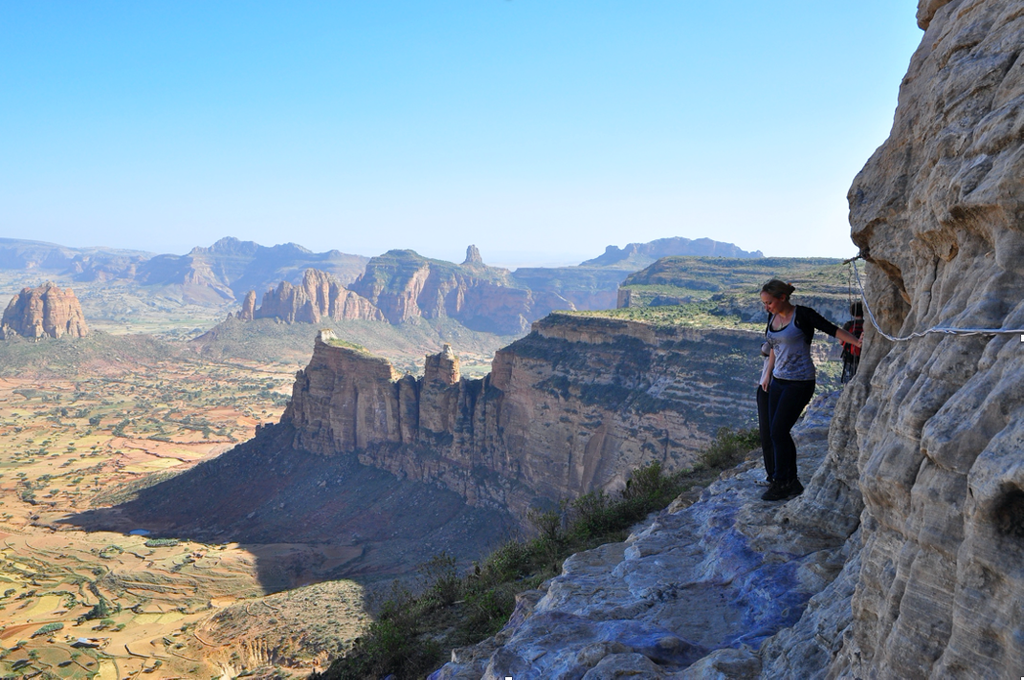 Academic Writing
— Monographs, Books & Articles —
Medieval Ethiopian Kingship, Craft, and Diplomacy with Latin Europe
Palgrave Macmillan 2021, 319 pages, ISBN: 978-3-030-64933-3, DOI 10.1007/978-3-030-64934-0. Visit publisher's website here.


Medieval Ethiopian Kingship explores why Ethiopian kings pursued long-distance diplomatic contacts with Latin Europe in the late Middle Ages. It traces the history of more than a dozen embassies dispatched to the Latin West by the kings of Solomonic Ethiopia, a powerful Christian kingdom in the medieval Horn of Africa. Drawing on sources from Europe, Ethiopia, and Egypt, it examines the Ethiopian kings' motivations for sending out their missions in the fifteenth and early sixteenth centuries – and argues that a desire to acquire religious treasures and foreign artisans drove this early intercontinental diplomacy. Moreover, the Ethiopian initiation of contacts with the distant Christian sphere of Latin Europe appears to have been intimately connected to a local political agenda of building monumental ecclesiastical architecture in the North-East African highlands, and asserted the Ethiopian rulers' claim of universal kingship and rightful descent from the biblical king Solomon. Shedding new light on the self-identity of a late medieval African dynasty at the height of its power, this book challenges conventional narratives of African-European encounters on the eve of the so-called 'Age of Exploration'.


Recent media coverage, interviews & reviews include Smithsonian Magazine, BBC History Podcast, the Medieval Podcast, Spiegel Geschichte & the New York Review of Books.
Read more on this project —including the Introduction of the book— here.
Africa Collecting Europe: Patronage, Religious Material Culture and the Assertion of Local Power in Ethiopia, 1470–1530
ca. 320 pages, manuscript to be submitted to an American UP in late 2021.
This monograph expands on the topics first explored in Medieval Ethiopian Kingship by investigating a wide body of material culture sources from Ethiopia – it investigates how, in the latter half of the 15th and early 16th century, Ethiopian elites fundamentally changed Ethiopian art by favouring a 'new' and hybrid style of painting that combined foreign iconographic and stylistic elements with Ethiopian visual traditions. It also demonstrates how members of the royal court were involved in the direct import of foreign religious material culture, acquiring both post-Byzantine icons from the Eastern Mediterranean as well as panel paintings that originated as far away late-medieval Flanders and Germany. Lastly, it shows how by the early 16th century, individual Solomonic royals engaged in the commissioning of prestige objects in Latin Europe, primarily painted enamels with Gǝʿǝz writing from Limoges in France. The book is thus first to show the active involvement of a medieval African court within the same network of collecting and artistic exchanges long attested-to for Europe and parts of Asia.


Ethiopia and the World, 500-1530
together with Dr Yonatan Binyam (Penn State University / UCLA)
as part of the Elements in the Global Middle Ages Series,
edited by Geraldine Heng and Susan J Noakes.
Cambridge: Cambridge University Press 2022.
This handbook, forthcoming in late 2022 as part of the Cambridge Elements Series in the Global Middle Ages edited by Geraldine Heng and Susan J Noakes, is an accessible introduction for non-specialist historians and other interested readers to the history the Ethiopian-Eritrean highland plateau between 500-1530 CE.
In line with the series' objectives of providing concise studies that 'introduce researchers and instructors to an interconnected world, c. 500-1500 CE', Ethiopia and the World, 500-1530, considers the history of both local Muslim and Christian kingdoms in their interrelation to Afro-Eurasia across the medieval millennium.
It offers an interdisciplinary synthesis of recent archaeological, historical, and literary research and is structured chronologically into four chapters.


Read more on the Global Middle Ages Series here.



OTHER MONOGRAPHIC PUBLICATIONS


PhD Thesis (microfiche publication)
Krebs, Verena: Windows onto the World: Culture Contact and Western Christian art in Ethiopia, 1402-1543, [Dissertation]. Konstanz: University of Konstanz 2014. Published September 2018.
Access Data can be found here.
Selected
Journal Articles
& Book Contributions
(peer-reviewed)